The Roofing System Solution -- all about your Roof and Shingles
How to spot the warning signs of a failing North Carolina Roof
There are many factors aside from Hail & Wind damage that cause your Roof to fail. This is one the reasons you need to hire a skilled Roofing contractor in the Charlotte NC area to inspect your Roof for damages or failure. At Room 2 Roof our skilled roofers and Inspection team knows all the tell tale signs and will be fair & honest with you regarding your Roof. We can save you thousands by making a few changes to your existing Roof such as adding the proper amount of ventilation before its too late.

The Complete Roofing System:
When we use Roofing products from reputable Roofing manufacturers such as
GAF, CERTAINTEED, TAMKO, OWENS CORNING
or
ATLAS
that offer a Complete Roofing system for the Roof on your Charlotte area home, YOU WIN! You can be assured that your roofing system was designed to work together, in harmony. We chose these manufacturers not only because of their Quality roofing products but because these companies manufacture all of the components that are Installed on your roof leaving no excuse for
"finger pointing"
. So no matter which roofing products you'd like us to install on your home you can sleep better at night knowing we put an end to the
"blame game"
tactics multiple manufacturers use in the event you need to make good on your Roofing manufacturers Warranty. Room 2 Roof extends this by offering a
10 year Workmanship warranty
because when you combine the Best Roofing products with the Best Roofers in the Charlotte NC region, You're purchasing the Best Roofing solution Hands Down!
Premium underlayments
Superior Quality Roof Deck Protection can Protect And Beautify At The Same Time! Quality Roof deck protection:
Prevents wind-driven rain. . .
(or water from other sources) from infiltrating under your roofing shingles and causing damage to your roof structure or the inside of your home
Provides an extra layer of protection. . .
between your roofs shingles and your roof deck.

Lays flatter. . .
and will not buckle when installed like 15lb Felt paper

Helps reduce blow-off. . .
by allowing your shingles to lay flatter and more uniformly providing a better finish.

Stronger than 15 and 30lb Saturated Felt Paper for about the same price.


Leak Barrier
A High Quality Granular Ice & Water Shield provides exceptional protection against roofing leaks caused by property movement and extreme weather. It also seals nail penetrations. It won't leak, ensures a 100% watertight seal. We install this product on every Roof we install in the Charlotte metro area.

A leak barrier helps prevent wind-driven rain from leaking through the roof deck, or melting ice and snow (caused by ice dams in harsh winter climates) from leaking into a property's interior. It adds extra protection in valleys and at eave and rake edges—the most leak-prone areas of the roof. Strongly recommended for chronic problem areas like skylights, dormers, vent pipes, chimneys, and other flashing areas.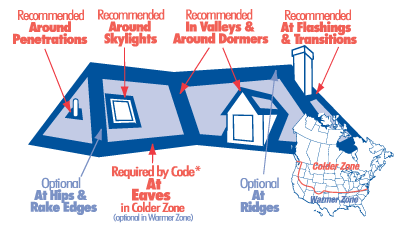 Starter Strip Shingles
Pre-cut starter strip roofing shingles will speed installation time while helping to prevent shingle blow-offs because of their factory-applied adhesive strips.


Quality Shingles
Choosing the right roofing shingle can increase the value of your home. Room 2 Roof offers you many great premium choices, on 25 yr 3 Tab, Architectural(laminated) or Premium Lifetime Shingles. The color and style of the shingles you choose will define the look and appeal of your home.


Ridge-Cap Shingles
A distinctive roof ridge cap shingle will:
Accentuate the natural beauty of your newly installed architectural shingle roof (or even add dimension and depth to a strip shingle roof)
Insure multi-layer protection at the highest-stress areas of your roof (the hips and ridges)
Provide a striking and higher quality alternative to using cut-up strip shingles as your ridge cap.


Attic Ventilation

GAF Cobra III and Master Flow vents help remove heat and mosture from your attic. Poor attic ventilation can ruin your insulation, destroy your roofing shingles, and raise your energy bills!
Why Take Risks? It is estimated that 9 out of 10 homes in North America do not have proper attic ventilation. Why? Because most people are unaware that attic ventilation can impact the longevity of their roof and entire home!
For example, in the summer, an improperly ventilated attic can cause heat to build in excess of 160°F. This superheated air eventually penetrates the ceiling insulation into the living area below and can fry your roofing shingles causing blistering and premature roof wear.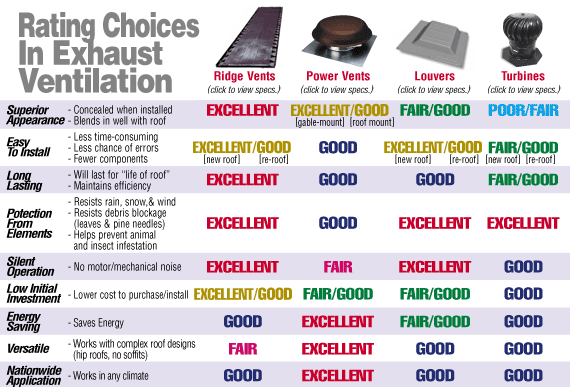 Types of damage that can result include:
Premature aging of your roofing system ("fried" shingles)
Warping, cracking, or breaking down of wood framing
Damage to siding, exterior or interior paint, and wallpaper
Higher energy costs


Premium Skylights
Skylights are the perfect way to add natural light to family rooms, kitchens, bathrooms, or any room that would benefit from the architectural style and luxury of a skylight. Call us today to find out more about adding a skylight to your Charlotte area home today.

Quality Membrane
A self-adhering membrane roofing system will provide long-lasting protection for the low slope areas of your property without the danger or hassles associated with open torches or hot asphalt.
Accessory Paint

Shingle Match accessory paint enhance the beauty of your new or existing charlotte nc roof.
Hide virtually all unsightly protrusions on the roof including vent pipes, exhaust vents, or flashings
Resist rust on roof accessories that can stain or discolor your roof shingles
Ensure a neat and finished look to your new or existing roof
Call us Today for a

FREE

ROOFING INSPECTION & ESTIMATE
704 549-9393
Charlotte, NC | Harrisburg, NC | Mt. Holly, NC | Huntersville, NC | Davidson, NC | Troutman, NC | | Statesville, NC | Gastonia, NC | Rock Hill, SC | Fort Mill, SC | Pineville, NC | Tega Cay, SC | Lake Wylie, SC | Albemarle, NC | Concord, NC | Cornelius, NC | Indian Trail, NC | Kannapolis, NC | Monroe, NC | Mooresville NC | Lincolnton, NC | Iron Station, NC | Maiden, NC | Catawba, NC | Salisbury, NC | Mint Hill, NC | Landis, NC | China Grove, NC | Rockwell, NC | Granite Quarry, NC | Waxhaw, NC | Weddington, NC | Stallings, NC | Belmont, NC | Stanley, NC | Sherrills Ford, NC | Spencer, NC | Lake Norman, NC | Denver, NC | Dallas, NC | High Rock Lake, NC | Gold Hill, NC | Richfield, NC | Matthews, NC | Midland, NC | Locust, NC | Monroe, NC | Waxhaw, NC | Marshville, NC | Clover, SC | McConnells, SC | Dallas, NC | Mount Holly, NC | Cherryville, NC | Shelby, NC | Kings Mountain, NC | Stanley, NC